a feature-length documentary film
by Lisa Gossels and Dean Wetherell

In the spirit of Louis Malle's Au Revoir les Enfants and Steven Spielberg's Schindler's List, the Emmy® Award-winning film THE CHILDREN OF CHABANNES has been praised as "splendid, informative and emotionally involving" (Los Angeles Times) and called "a seamless memoir of courage and a tribute to the human spirit." (New York Daily News).
A magical World War II tale of resilience and love, THE CHILDREN OF CHABANNES reveals the untold story of how the people in a tiny village in unoccupied France chose action over indifference to save the lives of 400 Jewish refugee children. Returning to the forgotten corner of France with her father and uncle (two of the saved children), filmmaker Lisa Gossels and co-director Dean Wetherell movingly recreate the joys and fears of daily life in Chabannes during the war. Through warm and wonderful accounts from the educators, townspeople and from the children themselves, we see how this oasis of hope is shattered in August of 1942, when the war reaches the doorsteps of the crumbling chateau where the children lived.
It's not about the mystery of evil: it's about an equally awesome subject. the mystery of good.
– Stanley Kauffmann, The New Republic
One of the most heartening Holocaust films ever made… A splendid, informative and emotionally involving film…
– Kevin Thomas, Los Angeles Times
A moving record of the unassuming, uncompromising heroism of ordinary people.
– A.O. Scott, The New York Times
The spectrum of the best and the worst in humanity that emerges in "The Children of Chabannes" is a moving and remarkable experience.  It definitely stands out in the crowded field of Holocaust documentaries.
– Paul Sherman, The Boston Herald
A celebration of human kindness, THE CHILDREN OF CHABANNES delivers a profound message of tolerance. The film documents the remarkable efforts made by the citizens of Chabannes, who risked their lives and livelihoods to protect these children, simply because they felt it was the right thing to do.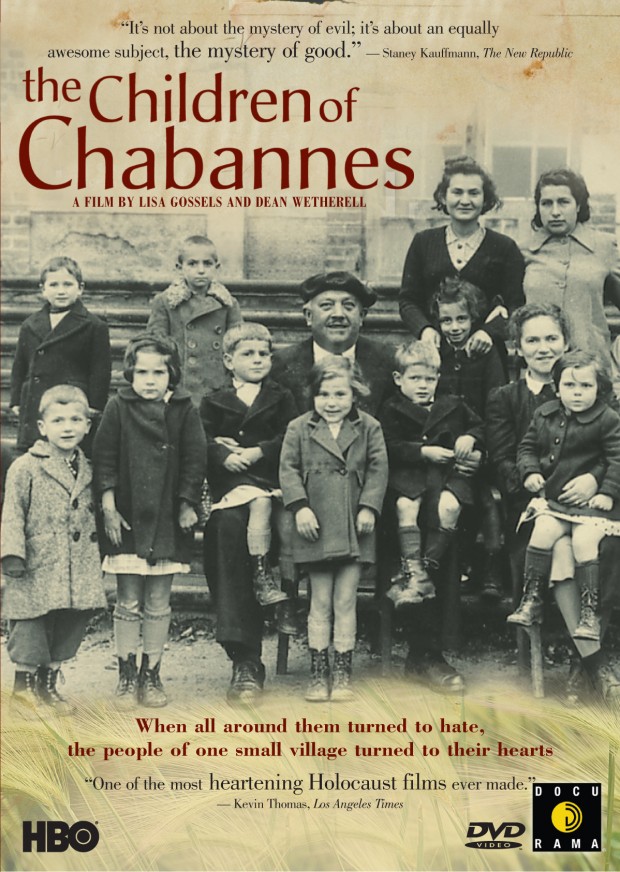 If you work with a religious, educational, or cultural institution, please click
here
to purchase or rent "The Children of Chabannes." Educational Streaming Licenses are also available on the
Kanopy Streaming
platform. To learn more about "The Children of Chabannes" and to invite Lisa Gossels to speak with the movie, please visit our
Official Website
.
GOOD EGG PRODUCTIONS, INC. and WETHERELL & ASSOCIATES, INC. present THE CHILDREN OF CHABANNES
produced by LISA GOSSELS co-producer DEAN WETHERELL directed and edited by LISA GOSSELS and DEAN WETHERELL
cinematography MUSTAPHA BARAT and PHILIPPE BONNIER music by JOEL GOODMAN
©1999 Good Egg Productions, Inc. and Wetherell & Associates, Inc. (USA) All rights reserved.
In English and French with English subtitles. (A French subtitled version is also available)
Approximately 93 minutes.